Orrick today launched an online tool that helps businesses globally determine whether they are covered by the California Consumer Privacy Act (CCPA) and, if so, their readiness to comply with a sweeping new privacy law changing the privacy landscape in the United States. The law places heavy privacy and cyber compliance burdens on any company doing business in California or with California consumers, and will require significant investment and time to comply. The CCPA Readiness Assessment Tool enables any company in the world doing business in California to test its readiness to comply with the CCPA, which goes into effect January 1, 2020.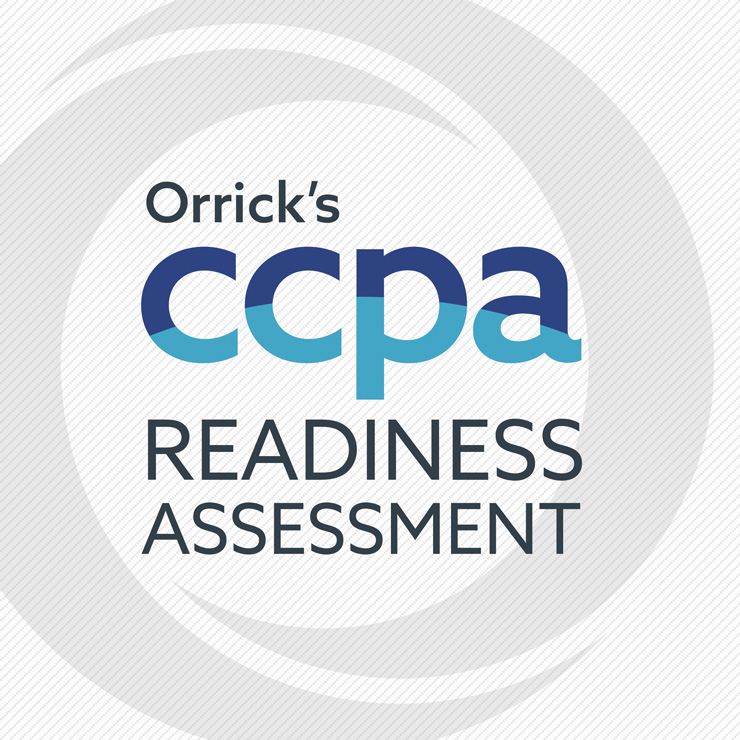 The Orrick tool is the most sophisticated law firm technology on the market to date, designed to help guide companies navigating this critical change in U.S. privacy regulation. Developed under the leadership of partner Heather Sussman, global co-chair of Orrick's Cyber, Privacy & Data Innovation Practice, and partner Emily Tabatabai, a leading adviser on CCPA issues, the tool provides a free and comprehensive readiness assessment tailored to the business's unique positioning and individual needs.
The CCPA imports GDPR-style rights and requirements to the US privacy landscape. The new rules are complex and present compliance challenges for many organizations. The consequences of non-compliance may be steep – the state Attorney General can seek fines of up to $7,500 per violation, and CCPA opens the door for consumers to bring private actions which can expose companies to statutory damages. In addition to providing guidance for CCPA, the tool offers a blueprint for evaluating readiness for similar state laws expected to be enacted across the country in the near future. At least 10 states have already introduced CCPA-like legislation.
The CCPA tool is simple, quick and free – it takes the user through a series of dynamic questions to check compliance with the law's five primary objectives, a process that can take between 10 and 30 minutes. Based on the company's self-reported responses to the questionnaire, the tool produces a report that identifies whether and to what extent the business is covered by the law, identifies gaps in the company's compliance readiness, and outlines statutory obligations and workstreams to help companies develop a roadmap to work toward compliance.
The CCPA tool is the latest example of the firm's innovative approach to using technology to help industries with legal solutions. In 2017, our Cyber, Privacy & Data Innovation Practice launched a GDPR Readiness Assessment Tool, widely recognized as the most comprehensive guide for global companies to evaluate their compliance with the European Union's unprecedented data privacy regulations.. Hundreds of companies in more than 30 countries have relied on Orrick's GDPR tool.
"California's law is another complex challenge for companies looking for assurance they are doing the right thing to address the fast-changing regulatory environment in data privacy," Heather said. "We're proud to be able to use our innovation platform to give business leaders the guidance they need to comply with CCPA. And we're well positioned to adapt this tool to legislation unfolding in other states, so businesses can rely on us to keep pace with regulatory changes that ready them for what is around the corner."
Orrick has committed to establishing a destination practice to advise clients in cybersecurity and privacy matters. Orrick's Cyber, Privacy & Data Innovation Practice includes partners in the U.S., Europe and Asia, including a new office in Boston, who are leading advisers on CCPA and other global cybersecurity and privacy regimes. In addition to Heather and Emily, this includes Doug Meal, Seth Harrington, Christian Schröder, Aravind Swaminathan and Michelle Visser, as well as dozens of other Orrick partners, counsel and associates who practice in this area.
Novel legal technology innovations such as the CCPA tool also reflect the firm's commitment to developing in-house solutions for business – Financial Times has named Orrick the Most Innovative Law Firm in North America the past three years.