Deutsch: ESOPs, VSOPs & Co – Strukturen / Steuern / Praxisthemen
Employee-ownership programs (or in short "ESOPs") play a critical role in attracting and retaining top talent to fledgling young companies. Stock options reward employees for taking the risk of joining a young, unproven business. This risk is offset by the opportunity to participate in the future success of the company. Stock options are one of the main levers that start-ups use to recruit the talent they need; these companies simply can't afford to pay the higher wages of more established businesses.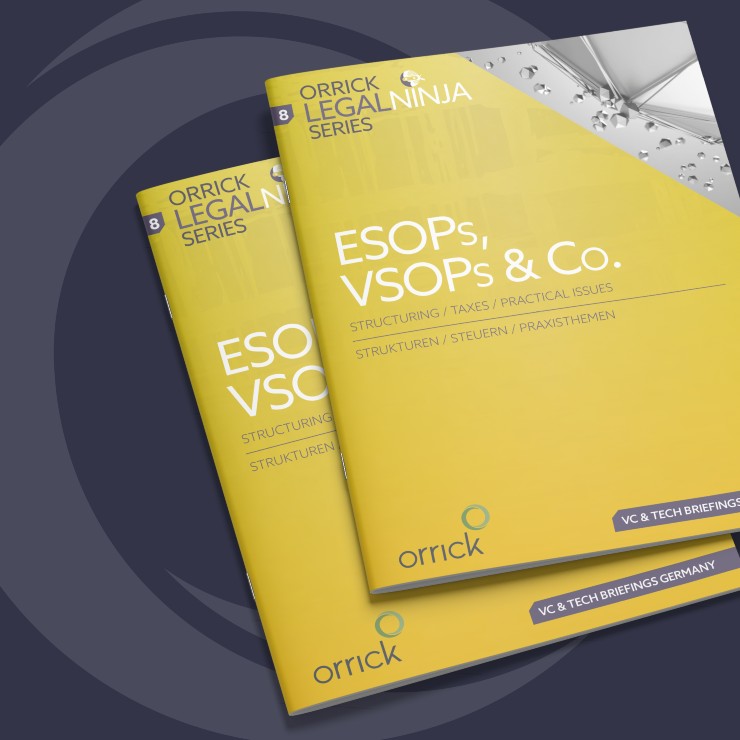 Though European (and in particular, German) start-ups feel themselves to be at a huge disadvantage: The applicable corporate and tax rules governing employee ownership are criticized as outdated, patchy, inconsistent, ineffective, and often punitive.
After pan-European private initiatives such as "Not Optional" and European VC investors such as Balderton Capital and Index Ventures have pushed for reforms to allow employee-friendly employee-ownership schemes for years, the matter has most recently been moved into the spotlight in Germany. The German legislator finally moved and a "reform" bill was brought on its way, which became law in spring 2021. However, the law has significant shortcomings and does not solve the problems of startups with employee stock ownership programs. Although it is encouraging that the lawmaker has taken up the matter at all, the real work remains undone.
Against this background, we have put together OLNS#8 to provide a comprehensive overview of the equity-based and virtual programs that German start-ups have at their disposal. While instinctively most founders understand that giving employees a slice in their company is important, many struggle in identifying the best approach to employee ownership for their specific situation.
With OLNS#8, we want to help start-ups and investors alike to better understand what employee ownership is, structure them in a way that is congruent with incentives, and implement them cleanly. Drawing on our experiences from working with thousands of start-ups worldwide, we will also give guidance on some practical challenges that many start-ups face at some point, e.g.:
how to use their employee-ownership programs for international hires;
how to account for the program's liabilities; and
what to keep in mind when looking at the interplay between employee-ownership programs and financing rounds or M&A transactions.
In preparing OLNS#8, our international and cross-functional Orrick team again drew on experience representing more than 3,000 tech companies globally, leading venture and private equity investors as well as many of the world's leading technology companies. Founded in the Bay Area, Orrick is one of the world's leading technology law firms and ranks #1 for European venture capital transactions (PitchBook, Q1 2021 – 21 consecutive quarters).
You can find an overview of our German Technology Transactions practice, including recent transactions and further publications, here.