For our seventeenth episode, Public Policy Podcast hosts Michelle McGann and Jon Mandel were joined by Arizona House Minority Leader Charlene Fernandez. Join us as we discuss the possibility of the Arizona House flipping blue, her experience working with the Republican majority on bipartisan efforts, including drought relief, and why investing in universities and infrastructure are key priorities for future legislative sessions.
Episode 17 Guest: Arizona House Minority Leader Charlene Fernandez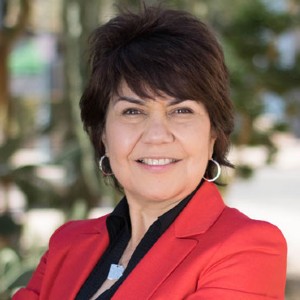 Charlene Fernandez has served as the Democratic Leader of the Arizona House since 2018. She was first elected to the state House in 2014 and represents Southwestern Arizona, specifically, the majority of Yuma County, western Pima County, southwestern Maricopa County and southwestern Pinal County. Currently, Fernandez serves on the Committee on Appropriations that oversees the state's budget and spending priorities.
Fernandez was born in Yuma, Arizona to the late Antonio "Tony" Ramos and Carmen Ramos. She attended Yuma High School where she graduated and went on to attend Arizona Western College before transferring to Northern Arizona University earning a Bachelor of Science degree in education.
Fernandez worked for Congressman Ed Pastor for twelve years, coordinating constituent services for the western portion of then Congressional District 2. While working for Congressman Pastor, Charlene spearheaded an effort that culminated in bringing a Veteran's Administration clinic to Yuma County for the first time in history; previously the Phoenix Veterans facility was the closest place for them to receive these services. Her experience led to her becoming a consultant for a software company that produced a Constituent Management System for the U.S. House of Representatives.
Charlene later served Governor Janet Napolitano as a liaison for the Arizona Department of Environment Quality in Yuma County. In this capacity, she worked with the U.S. Environmental Protection Agency, as well as its counterpart in the Republic of Mexico, to ensure that the air and water in Southwestern Arizona remained safe while ensuring that businesses faced minimal impact.
Fernandez serves or has served on the Yuma Community Foundation, Board of the United Way of Yuma County, and Yuma Leadership.
Fernandez and her husband Sergio have three adult children.