日本語: Japan Renewables Alert 65
Today's Topic
Offshore Wind in Japan - Promotion Zones Newly Designated for Round 3 Auction and the Future of Floating Wind
On October 3, 2023, two new sea areas were designated as "Promotion Zones" pursuant to the Act of Promoting Utilization of Sea Areas in Development of Power Generation Facilities Using Maritime Renewable Energy Resources (Act No.89 of 2018; the Maritime REA). With regard to offshore wind projects in general sea areas, applications are now being reviewed for Round 2, with the first auction based on the new evaluation criteria and the assumption of the FIP approval (four Promotion Zones; application closed on June 30, 2023). The government is now preparing for Round 3 with bidding expected to begin within this fiscal year.
On the same date, in a significant move toward expanding floating wind projects, the government announced three sea areas in the preliminary stages for Promotion Zones presumed to be for floating wind projects as well as candidate sites for government-led floating wind pilot projects.
Offshore wind generation began on a commercial scale in Japan in December 2022, and it is expected to accelerate even further with the aim of achieving carbon neutrality by 2050. In this Alert, we take a look at the future of offshore wind in Japan.
1. Promotion Zones Newly Designated for Round 3 Auction
In Japan, offshore wind projects of a certain scale located in general sea areas (outer sea areas, as opposed to port areas), are to be implemented by operators selected through a public bidding process under the Maritime REA. Pursuant to the Maritime REA, the government is to designate "Promotion Zones" based on discussions held by a "Council" that includes local stakeholders and then solicit operators through public auction (with procedures and evaluation criteria to be provided in "Public Bidding Guidelines" by the government). Operators selected in these public auctions will obtain an occupancy permit for up to 30 years (which can be extended) and FIT/FIP approval to implement their projects in accordance with the plan they submitted at the time of auction.
On October 3, 2023, the METI Minister and the MLIT Minister designated new "Promotion Zones" based on the Maritime REA (here). The newly designated Promotion Zones are (1) the "zone in the Japan Sea offshore Aomori Prefecture (South)" (offshore Tsugaru City, Ajigasawa Town and Fukaura Town, Aomori Prefecture) and (2) the "zone offshore Yuza Town, Yamagata Prefecture." The government is expected to prepare the Public Bidding Guidelines and implement the bidding process (Round 3) to select an operator for these two newly designated Promotion Zones on an assumption of bottom-fixed and FIP. Considering the precedents so far, the public bidding may start within this year.
In addition to the announcement of the designation of Promotion Zones, the government also announces "prospective zones" (Prospective Zones) that are likely to be designated as Promotion Zones in the future and "areas having proceeded to a certain preliminary stage" (Preliminary Zones) that are likely to be selected as Prospective Zones in the future. On October 3, 2023, together with the designation of the Promotion Zones, the government announced that it selected the "zone offshore Sakata City, Yamagata Prefecture" as a Prospective Zone, and the "zone offshore Gan'u and the Minami Shiribeshi District, Hokkaido (floating)" and "zone offshore Shimamaki, Hokkaido (floating)" as Preliminary Zones. All these new Prospective Zones and Preliminary Zones are selected on the assumption that there will be floating projects (note that these two Preliminary Zones have also been designated as Prospective Zones for bottom-fixed projects).
The map below shows the current organization of Preliminary Zones and Prospective Zones, as well as designated Promotion Zones (see source here).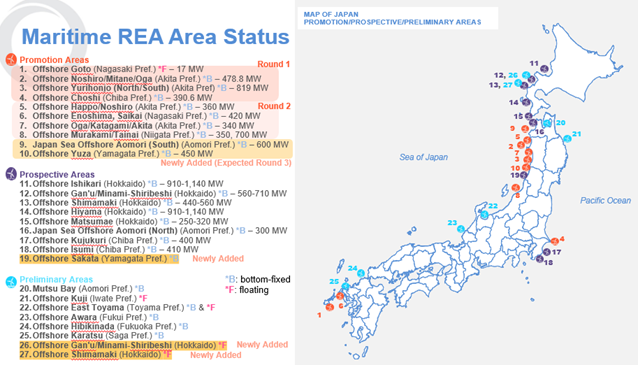 2. Announcement of Zones for Preliminary Survey Under the Centralized Method
Japan is working to establish a "Centralized Method" for efficiently formulating projects with the initiative and involvement of both national and local government (see here). Until now, it has been presumed that for offshore wind power each operator has been individually conducting preliminary surveys on wind and seabed, coordinating with local communities, conducting EIAs, and securing grid access. It has been pointed out that a more centralized approach would be more effective for project formation under the public auction system pursuant to the Maritime REA.
Approaches that have been considered as part of the Centralized Method include: (1) a system in which the national government conducts preliminary wind and seabed surveys in advance and makes the results available to the selected operator; (2) a system in which initial EIA procedures are conducted by the national government and then handed over to the selected operator; and (3) a system in which grid connection is secured at the initiative of the national government. With respect to wind and seabed surveys under (1), JOGMEC (Japan Organization for Metals and Energy Security), following legal amendments in 2022, began conducting surveys in three offshore zones in Hokkaido (the zone offshore Gan'u and the Minami Shiribeshi District (bottom-fixed), the zone offshore Shimamaki and the zone offshore Hiyama) in FY2023.
On October 3, 2023, the government announced that the research under the Centralized Method is scheduled to be conducted for the above-noted newly selected areas as Prospective Zones and Preliminary Zones (the zone offshore Sakata City, Yamagata Prefecture, the zone offshore Gan'u and the Minami Shiribeshi District, Hokkaido (floating) and the zone offshore Shimamaki, Hokkaido (floating)), starting in FY2024.
After discussions at the expert panels, the government established a certain policy with respect to (3) securing of grid connections (see here) and also proposes a certain direction with respect to (2) the centralized EIA (see here). Under the Centralized Method, it is hoped that projects can be formed quickly and with smoother coordination with local stakeholders.
3.
Announcement of Candidate Sites for Phase 2 of Floating Wind Pilot Projects

Japan has established a Green Innovation Fund (the "GI Fund") to provide public funding support for investment in areas in which innovation is particularly needed to achieve the goal of carbon neutrality by 2050. NEDO's (New Energy and Industrial Technology Development Organization) "Project to Reduce Costs of Offshore Wind Power Generation" (see here) is a GI Fund project that aims to establish technologies that can commercialize floating offshore wind power generation at internationally competitive cost levels.

The Project to Reduce Costs of Offshore Wind Power Generation is intended to pursue development of elemental technologies during Phase 1 and to conduct floating wind pilot projects during Phase 2 by implementing the result gained under the preceding phase. The government announced on October 3, 2023, four candidate sites for the Phase 2 pilot projects. These four sites are: (1) offshore Hamamasu, Ishikari City, Hokkaido, (2) offshore Gan'u and the Minami Shiribeshi District, (3) offshore Southern Akita Prefecture and (4) offshore Tahara City and Toyohashi City, Aichi Prefecture. The government will select operators through a bidding process (not related to the one conducted pursuant to the Maritime REA), and applicants are to choose the site and prepare their plan to be submitted to NEDO, which will then examine the submitted plans and select the operators and sites (approximately two sites).

If the area offshore Gan'u and the Minami Shiribeshi District is selected as pilot project site for Phase 2, it will then be excluded from the scope of the preliminary survey under the Centralized Method.
4. Outlook
Given Japan's mountainous land covered with forest, large-scale renewable energy projects have faced growing local opposition in recent years from the perspective of local environment preservation and disaster prevention. Expectations are now high for offshore wind power in the nation surrounded by sea, and momentum has been growing even stronger with the launch of Japan's first commercial-scale offshore wind power generation projects in Akita Prefecture in December 2022 and January 2023.
As Japan has few shallow waters along its coastlines, there are high expectations for floating offshore wind projects that are suited to deep waters with active support from the government. Additionally, Japan is now considering to begin practical discussions on legislation necessary to implement offshore wind projects in its exclusive economic zone (EEZ) in the near future, as an expert panel concluded that it is allowable under international law (see here), and there is growing enthusiasm for the expansion of floating offshore wind power.
From October 10 through 13, 2023, the Global Offshore Wind Summit was held by JWPA (Japan Wind Power Association) and GWEC (Global Wind Energy Council) in Kitakyushu City, Fukuoka Prefecture (see here). The Summit hosted approximately 550 participants from 30 countries, showing intense attention from both domestic and international players. Orrick lawyers from the Tokyo, Singapore and U.S. offices were also at the site, including Minako Wakabayashi (Partner at Orrick's Tokyo office), who is also an auditor of JWPA and was introduced at the diversity and inclusion (women's participation) section of the event.
With the urgent need to decarbonize energy in terms of both environmental and industrial policy, there have been many institutional amendments in the energy sector. It is essential for projects to keep abreast of these institutional changes and the discussions that are taking place. In addition to advising on individual matters, we offer a bi-weekly Regulatory Update Report (subscription only) in both Japanese and English to help our clients keep track of these changes. Please feel free to contact us below with any inquiries.