In our latest episode, Public Policy Practice Group Leader Jeremy Kudon and Justin Cooper, Finance Sector Leader and a member of our Public Finance practice, spoke with California Senate Majority Leader Bob Hertzberg about his new book, California's recall election, the state's ongoing housing crisis and his thoughts on his son Daniel running for his seat. For our listeners who enjoy sports wagering, we discuss mobile sports wagering hitting the ballot box in 2022 and whether California is ready for it, according to the Senator.
Episode 25 Guest: California State Senate Majority Leader Robert M. Hertzberg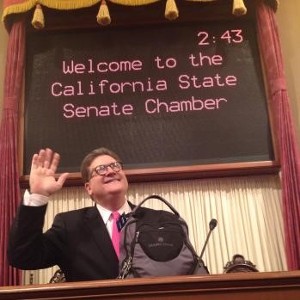 Senate Majority Leader Robert Hertzberg was first elected to the California State Assembly in 1996. After unanimously elected by both parties in 2000 and 2001, he became the 64th Speaker of the California State Assembly. After his tenure as Speaker, Hertzberg set out to the private sector as a clean energy entrepreneur. In 2014, he returned to state government after being elected into the California State Senate. Hertzberg represents nearly one million people in the San Fernando Valley, and currently serves as Majority Leader.
Among his many legislative efforts during his time in the Assembly that have lasting impacts to this day, Hertzberg was instrumental in making the University of California's 10th campus in Merced a reality. He also authored the Women's Contraceptive Equity Act, which required health care service plan contracts to cover contraception, and the Hertzberg-Leslie Witness Protection Act, which established a Witness Protection Program in California.
After he termed out of the Assembly in 2002, Hertzberg became a global clean-energy entrepreneur. He helped create one of the first solar manufacturing companies in Los Angeles, and co-launched a company that produced inexpensive, lightweight solar panels for use around the world. In recognition of his clean energy efforts in Rwanda, he received the "World Bank Award for Lighting Africa," and the United Kingdom-based Guardian Magazine named him one of the "50 People Who Could Save the Planet."
Hertzberg's areas of public policy interest know no limit. He is characterized as a legislator who fears nothing and takes on everything. As Chair of the Committee on Natural Resources & Water, Hertzberg championed resource conservation standards that will guide our state for generations: he oversaw the passage of a parks bond to improve and safeguard our state and local parks, as well as the most significant changes to forestry protection laws in a generation. From criminal justice (his California Money Bail Reform Act eliminated the unfair and unjust cash bail system in California) to technology related issues (in 2018 he negotiated the passage of the California Consumer Privacy Act, enacting the strongest data privacy protections in the nation), Hertzberg approaches every problem through a lens of governing for the next generation, not the next election.
In 1979, Hertzberg earned his law degree from University of California, Hastings College of the Law and became a member of the California Bar. The Los Angeles Business Journal named him one of the top ten lawyers in Los Angeles, and The Daily Journal has repeatedly named him one of the top 100 lawyers in California.
Hertzberg has two grown sons. David is a classical music composer and a Juilliard graduate, and Daniel graduated from Goucher College and, like his father, loves politics and public policy.