For its seventh episode, Public Policy Podcast hosts Jeremy Kudon and Michelle McGann are joined by Maryland Senate President Bill Ferguson for a discussion on how states in his region are coordinating during the pandemic, how he uses his experience as a teacher to lead the Maryland Senate, and how the state is applying innovative approaches to economic recovery in a post-COVID world.
This episode was recorded on May 27 before the world was reawakened to the persistent and systemic racial injustice that exists in society. While the episode does not discuss the "Black Lives Matter" movement or related policy reform, Senate President Ferguson has been an active listener and is highly engaged in the discourse and public actions. Please visit his Facebook Page and a recently published Baltimore Sun article to learn more about how President Ferguson plans to lead the Maryland Senate in response current events.
Episode 7 Guest: Maryland Senate President Bill Ferguson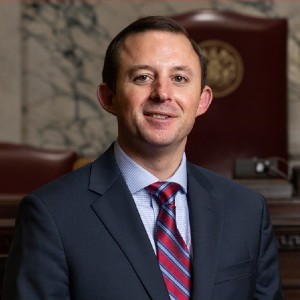 Senate President Bill Ferguson was first elected to the Maryland State Senate in 2010, then becoming the youngest ever elected State Senator in Maryland's history. He represents Maryland's 46th Legislative District, located entirely within Baltimore, including neighborhoods in south Baltimore, downtown near and around the Inner Harbor, and southeast Baltimore. Bill was elected to his post as Senate President in January 2020.
A lifelong Maryland resident, Bill made Baltimore City his home when he joined Teach for America after graduating from Davidson College with a double major in political science and economics. From 2005 to 2007, Bill taught U.S. history and U.S. government to ninth and tenth graders in a breakout academy of one of Baltimore's most challenged high schools.
The inequities of the public education system in Baltimore City led Bill to engage more deeply within the community outside of the schoolhouse. After teaching, Bill worked as a Community Liaison for the Baltimore City Council President's Office; earned a law degree from the University of Maryland School of Law; and served as the Special Assistant to Dr. Andres Alonso, CEO of the Baltimore City Public Schools. Through these pursuits, Bill continually drew from his classroom experiences to find ways to bring new resources and greater attention to the city's educational achievement gap.
Bill is married to fellow Teach for America alum Lea Ferguson (Baltimore City, '05). They live in Canton with their son Caleb, baby daughter Cora, and two dogs.