Congratulations to Orrick Pro Bono Counsel Rene Kathawala on receiving Her Justice's 2019 Pro Bono Counsel Award. Rene was honored during the 19th annual Commitment to Justice Awards, held February 28 in New York.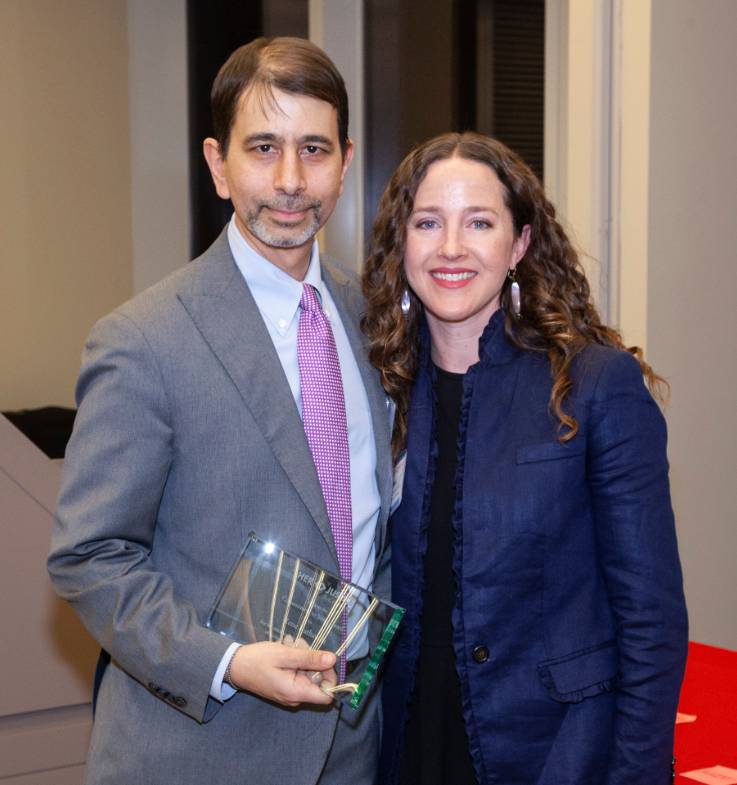 Rene Kathawala with
Rachel L. Braunstein,
Managing Policy Attorney
at Her Justice
Her Justice advocates for women living in poverty in New York City by recruiting and mentoring volunteer lawyers to provide free legal help to address individual and systemic legal barriers. Rene was recognized for his career-long commitment to representing clients, many domestic violence survivors, in the full range of family and matrimonial cases and getting Orrick lawyers involved in this work. Since representing a single mother in a successful custody matter for her 16-year-old daughter in 1997 against a father who was a state court judge when he was a first-year lawyer, Rene has represented more than 100 clients referred by Her Justice (and other partner organizations) in child support, custody, order of protection and divorce cases. He has worked over 12,500 hours on these matters.
More recently, in December 2017, Rene filed a groundbreaking class action lawsuit in New York Supreme Court in Manhattan on behalf of custodial parents in New York State whose rights were ignored by the court system when their child support violation cases lingered often for years and were not completed within the 90 day expedited period required by a state rule that is a product of a federal mandate. The result of the lawsuit has been a transformation of how child support violation cases in New York State are processed, all for the benefit of the custodial parents and their children.
Rene has also been the lead lawyer in several New York State family law appeals in the Appellate Divisions, First and Second Department, that are precedent in New York State. Finally, in recognition of his expertise in family law, United States District Judge Bloom appointed Rene as a special master in a federal court family law matter in 2014 in the Eastern District of New York in case number 07-cv-02565-ARR-LB, styled Garmhausen et al v. United States Department of Justice et al.