On the heels of Independence Day, Public Policy Podcast hosts Michelle McGann and Jon Mandel had the pleasure of featuring the podcast's first guest from local government: Veteran DC Councilmember Kenyan McDuffie. Join us as we highlight the nation's capital and discuss the myriad issues facing a local government receiving national spotlight and learn about how DC is handling the COVID-19 reopening process, what new approaches to the public safety budget and criminal justice the Council is contemplating, and the recent U.S. House of Representatives vote for DC statehood.
Episode 10 Guest: District of Columbia Councilmember Kenyan McDuffie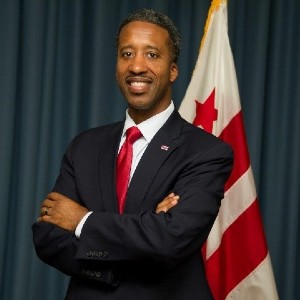 Kenyan McDuffie, Councilmember for Ward 5, was first elected to the Council of the District of Columbia in 2012. In his time on the Council, Kenyan has established himself as a skilled legislator and coalition builder, including having been elected by his colleagues to serve as Chairman Pro Tempore since 2013.
Councilmember Kenyan McDuffie serves as the Chair of the Business and Economic Development Committee, which has oversight over 20 agencies and commissions, including the Deputy Mayor for Planning and Economic Development, Department of Small and Local Business, Alcoholic Beverage Regulation Administration, Public Service Commission and Office of the People's Counsel. Previously, Kenyan served as Chair of the Judiciary Committee. In that role, he oversaw sweeping updates to the District's criminal justice law.
Prior to joining the Council, Kenyan worked extensively in the legal and public safety fields. He served as a law clerk for an Associate Judge on the 7th Judicial Circuit of Maryland and worked as an Assistant State's Attorney in Prince George's County. Kenyan also served as a trial attorney for the Civil Rights Division of the Department of Justice, where he was an integral team member on cases to reform the policies and procedures of police departments. More recently, he served as a policy advisor to the District of Columbia's Deputy Mayor for Public Safety and Justice.
Kenyan began his career in public service working for a member of the U.S. House of Representatives shortly after graduating summa cum laude from Howard University. He went on to receive his Juris Doctorate from the University of Maryland School of Law, where he served as an editor of the University of Maryland Law Journal of Race, Religion, Gender and Class.
Kenyan and his wife, Princess, live in his childhood home in Ward 5 with their two young daughters, Kesi and Jozi.